The fifth Hong Kong Sparrow Census organized by the Hong Kong Bird Watching Society (HKBWS) has recorded stable population trend of Eurasian Tree Sparrow (sparrow) in urban Hong Kong.
According to the newest estimation, there are about 260,000 sparrows in Hong Kong, similar to the estimate in 2019. Since January 2020, the COVID-19 pandemic has dramatically altered human activities of which people prefer to stay at home while maintaining social distance. Despite that the altered human activities were presumed to affect the urban ecology, this was not reflected on the sparrow population this year. However, reduced human visit to recreational areas and closure of many restaurants and shops might mean fewer available food offered to birds, where fewer sparrows were observed in the parks and commercial areas.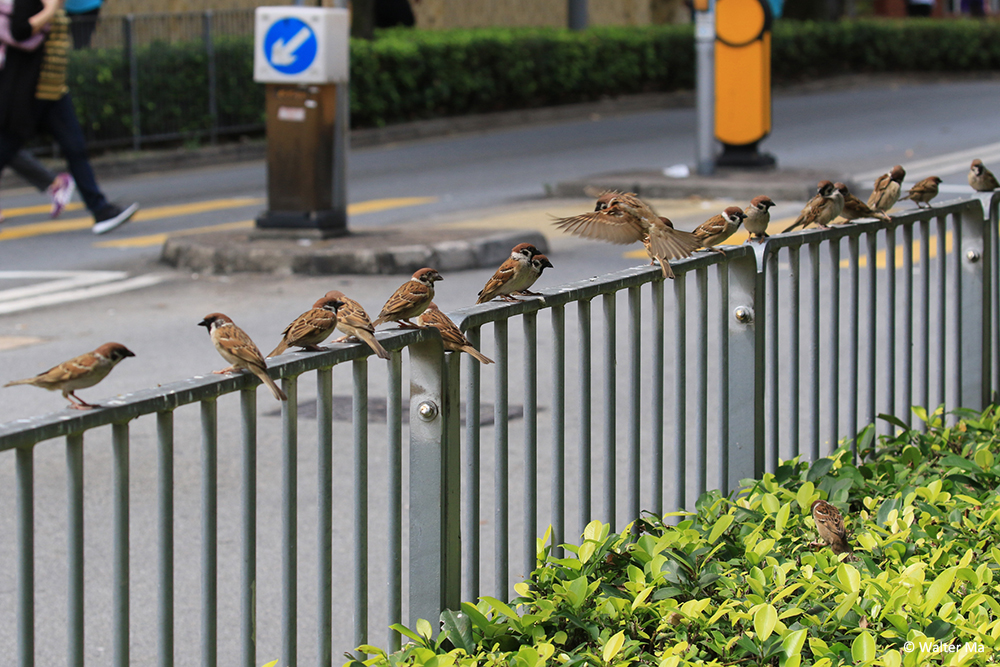 Number of sparrows decreases in parks and commercial areas
The latest census reported about 260,000 sparrows in Hong Kong, which is similar to 2018 (250,000) and 2019 (due to calculation errors, the population estimate in 2019 is corrected as 245,071). Dr. Pang Chun-chiu, Senior Research Specialist of HKBWS, pointed out, "We do not see widespread and significant impact of COVID-19 on the sparrow population this year yet, as their number remain considerably stable since our first census in 2016."
The Hong Kong Bird Watching Society surveyed sparrows following 87 routes in all 18 districts. Six types of lands were covered in the census, including residential, industrial, commercial, recreational, agriculture and village areas. While the number of sparrows in most areas remain stable, those in commercial and recreational areas showed downward trend this year. Dr. Pang continued, "fewer visit of people to the parks, and closure of many restaurants and shops in the commercial areas would result in reduced food sources to sparrows, driving them to forage in other areas. Nevertheless, we urge the public not to feed any wild birds, this would not only worsen the public hygiene, relying too much on human food sources would also disturb the ecosystem and change the feeding habit of wild birds."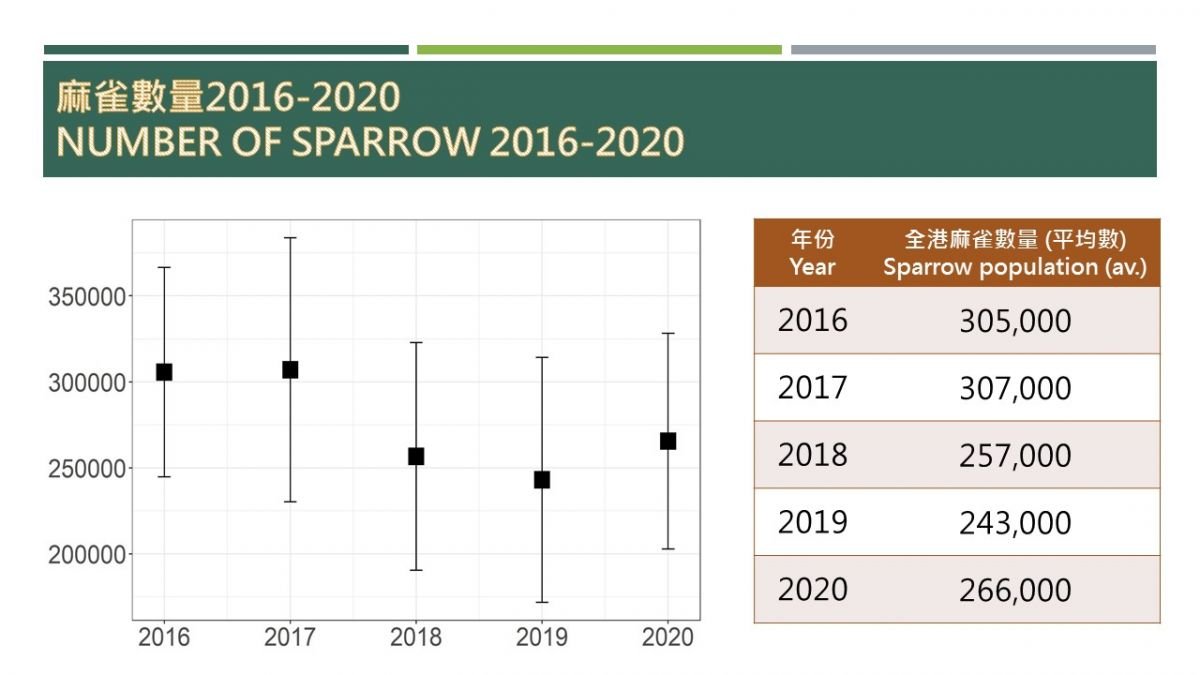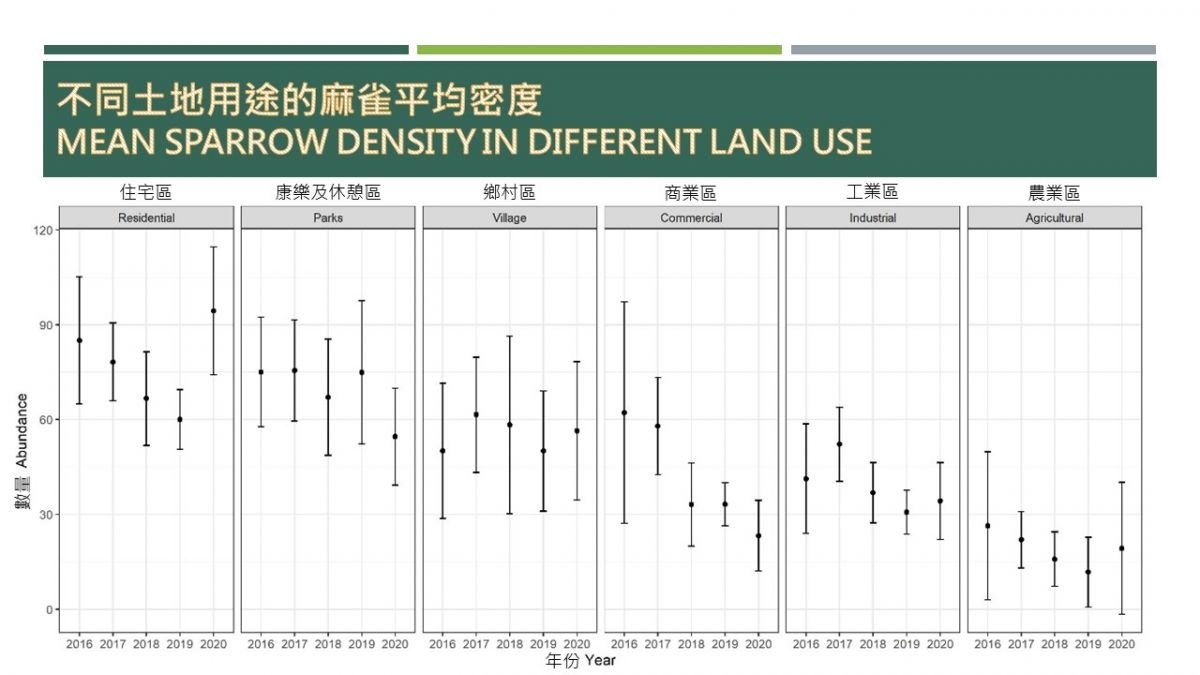 Promote a man-birds harmonious city Expand census of urban bird species
Due to the epidemic situation, HKBWS did not recruit the general public for the sparrow census this year. The census was instead carried out by the Society staff and experienced surveyors with well-trained survey skills. Furthermore, the census extended to cover four more common urban bird species in order to deepen the understanding on urban ecology. Birds newly introduced to the census included Red-whiskered Bulbul, Spotted Dove, Oriental Magpie Robin and Red-billed Blue Magpie. The census estimated that there are 65,000 Red-whiskered Bulbul, 58,000 Spotted Dove, 18,000 Oriental Magpie Robin and 2,000 Blue Magpie living in the urban part of Hong Kong. Results also showed that Sparrow, Oriental Magpie Robin, Spotted Dove and Red-billed Blue Magpie preferred residential and recreational areas, while Red-whiskered Bulbul preferred villages. The survey of these four additional species is expected to be incorporated in the future census, where the general public could participate in collecting data, arouse one's interest in bird watching, and hopefully achieve a harmonious city with birds and humans.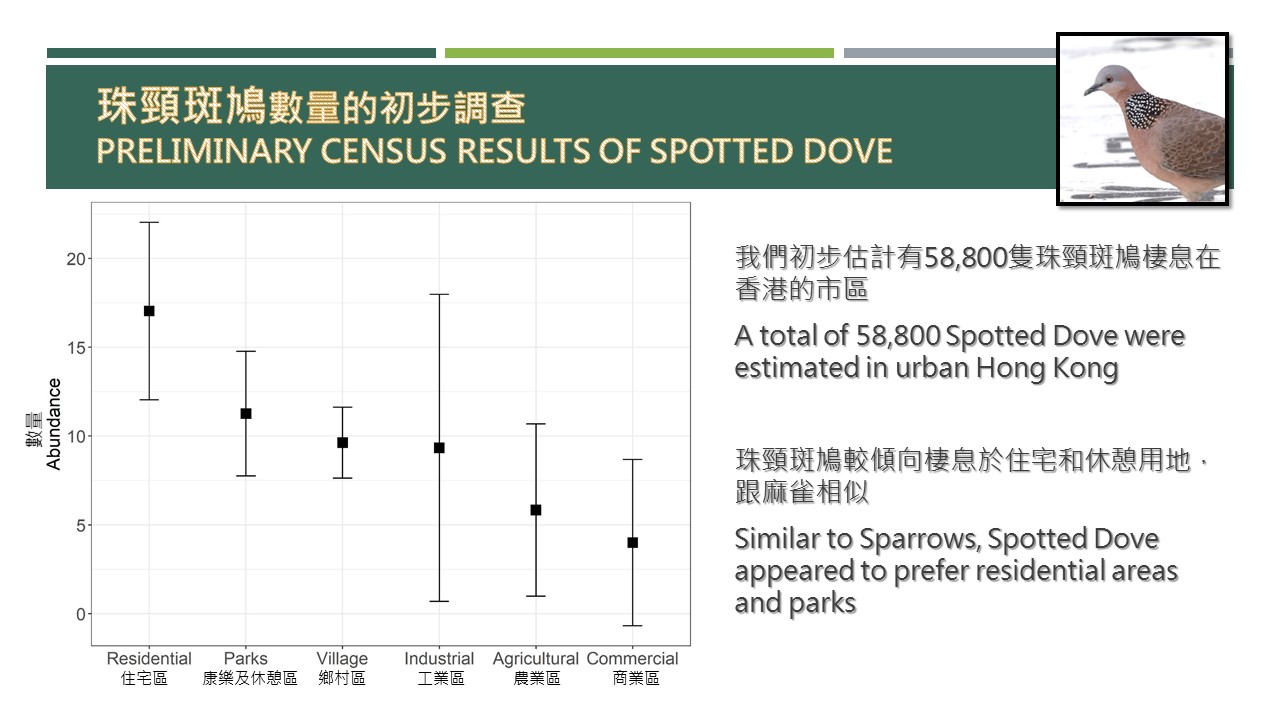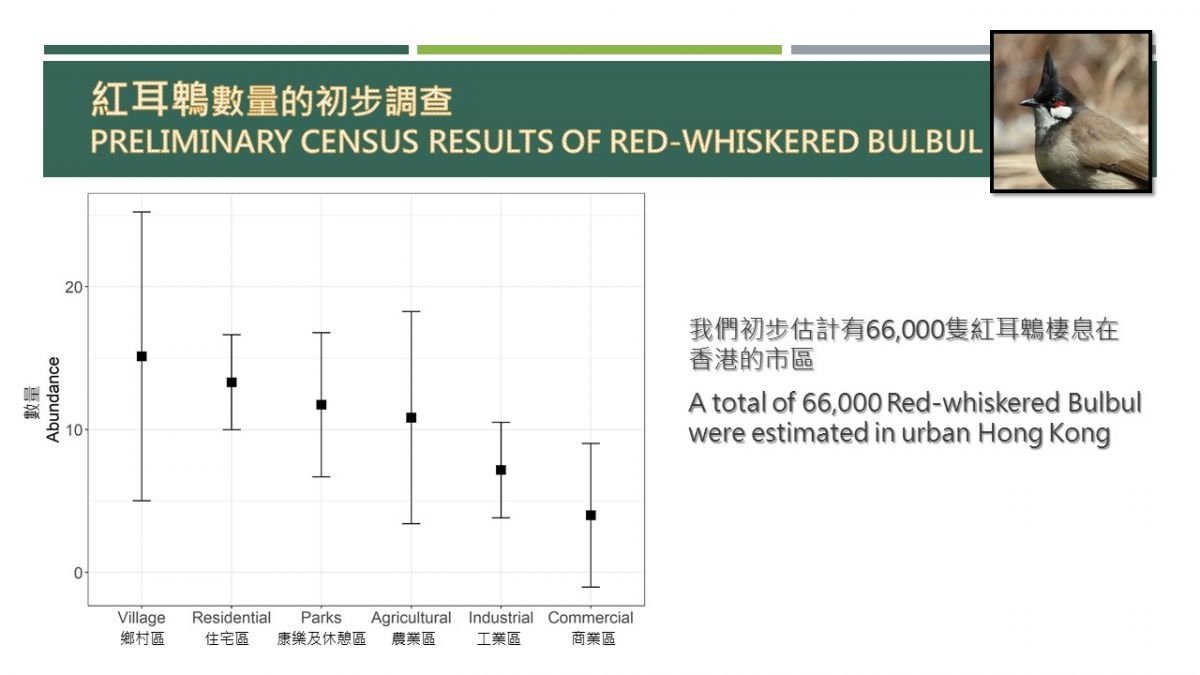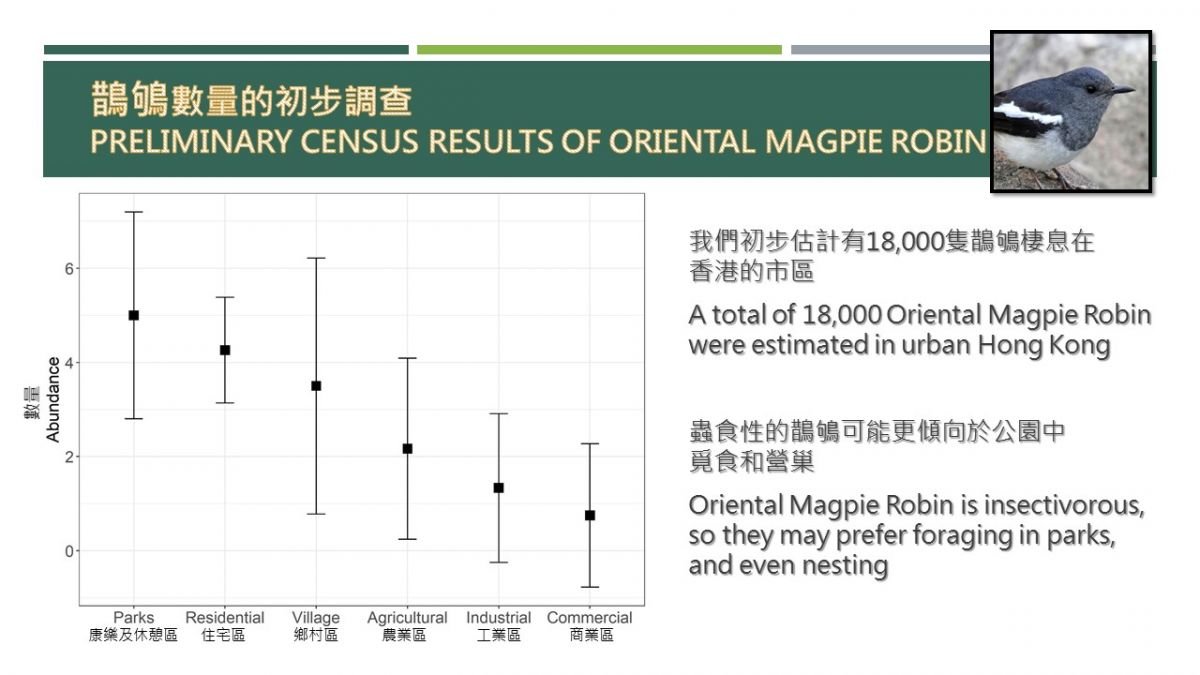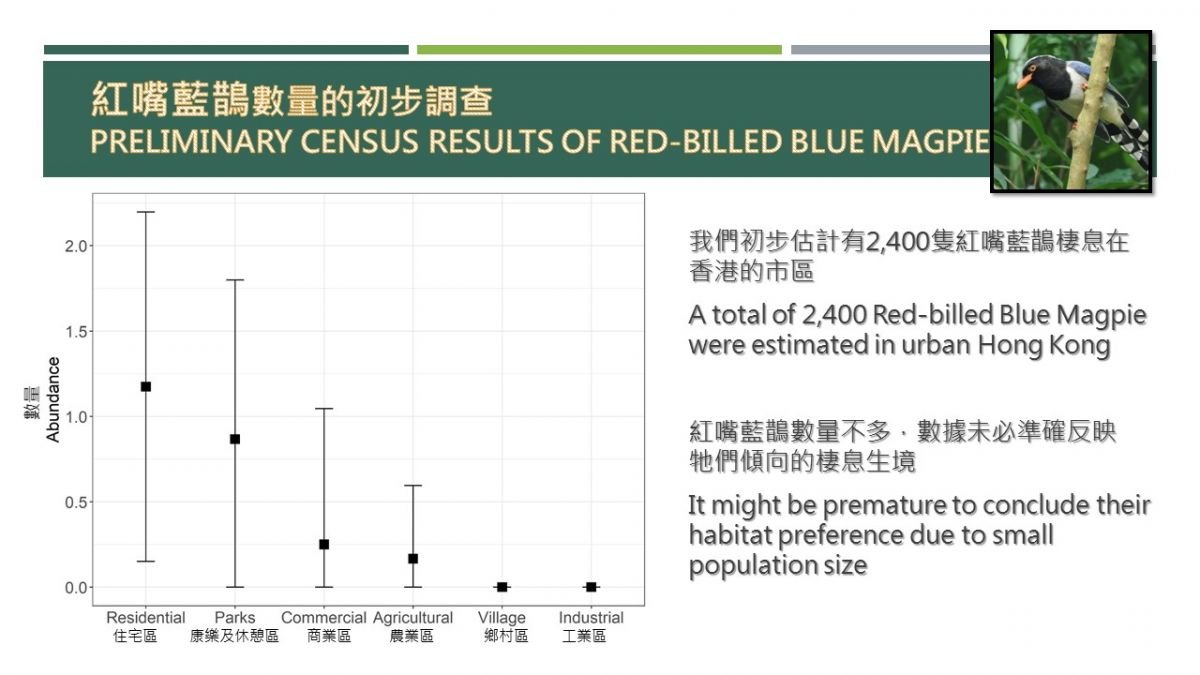 From being citizen scientist to safeguarding Hong Kong's birds
Hong Kong Sparrow Census was first launched in 2016. It is one of the largest long-term citizen science programmes in the city. Due to the COVID-19 pandemic, the census this year was carried out by 71 staff and experienced surveyors to survey 87 routes, instead of surveyed by the general public as in the past years. The Society aims at deepening our understanding on urban ecology and covering more species in future censuses. The Society would like to provide opportunities for the public to participate in scientific research and bird monitoring, as well as raising public's interest in wild birds around us, and ultimately contribute to the protection of wild birds living in the Hong Kong city.