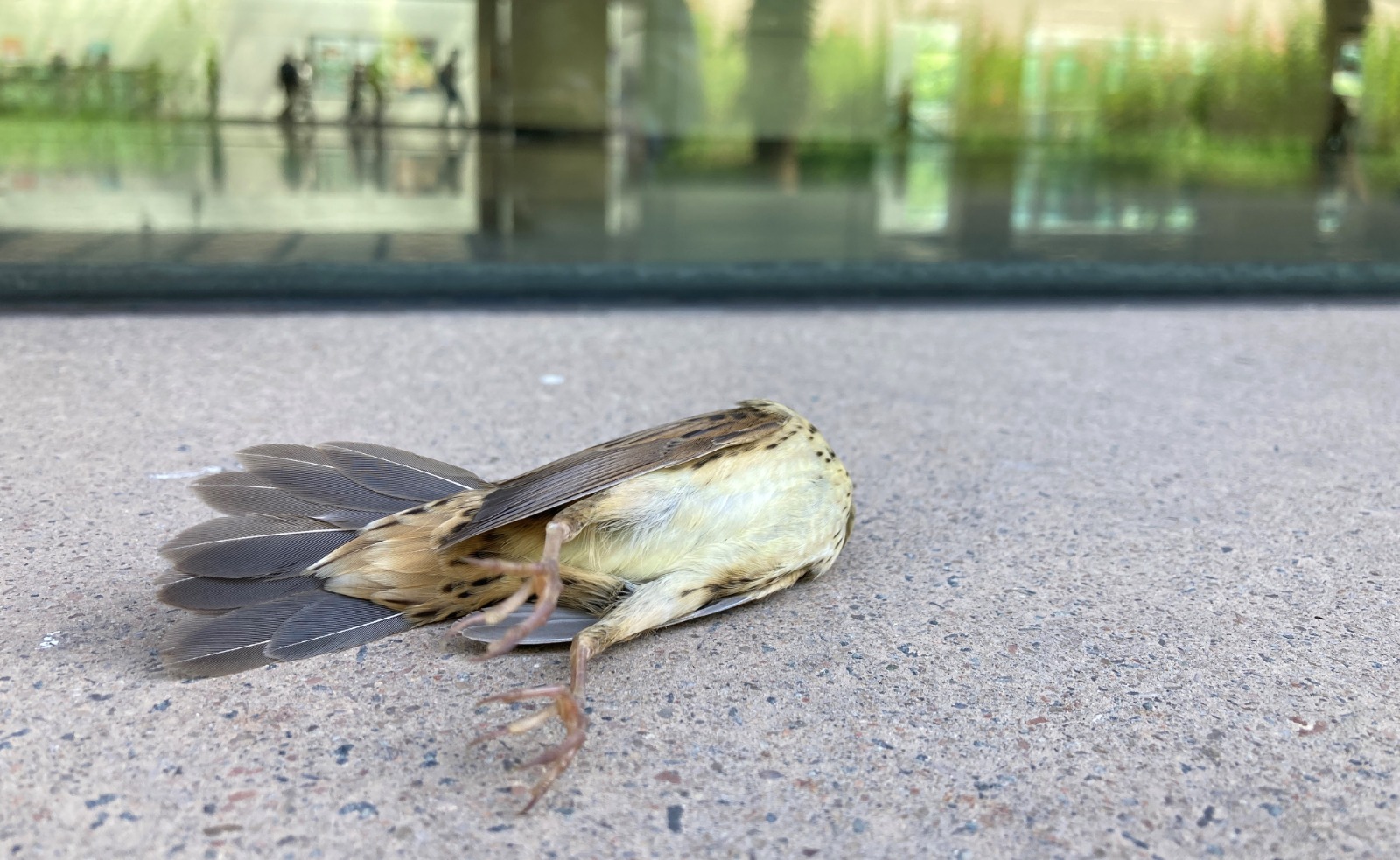 "Bird collision"is considered to be one of the top killers of wild birds. The term refers to the incident that birds fail to recognise glass facades or mirror and collide with it which can cause injuries or even death. Many studies have estimated that the number of bird deaths caused by window/glass collision exceeds that caused by traps in the city such as electric cables, pesticides, road kills, windfarms, etc.
Since 2021, we have been encouraging the general public to submit bird collision cases to Global Bird Collision Mapper in echo with the Global Bird Rescue Campaign. In autumn 2022, we recruited volunteers for the first time to conduct regular surveys at five locations. Thanks to the efforts made by our volunteers and the general public, we can gather more bird collision data through the online platform, and so far we have collected more than 200 cases as of the end of 2022. More bird collision black spots are being discovered and we have proactively contacted the corresponding property management of 8 locations in hope of improving the current situation. As of January 2023, only three parties have responded and have taken or have committed to take bird collision mitigation measures. We really need your support to keep our work going!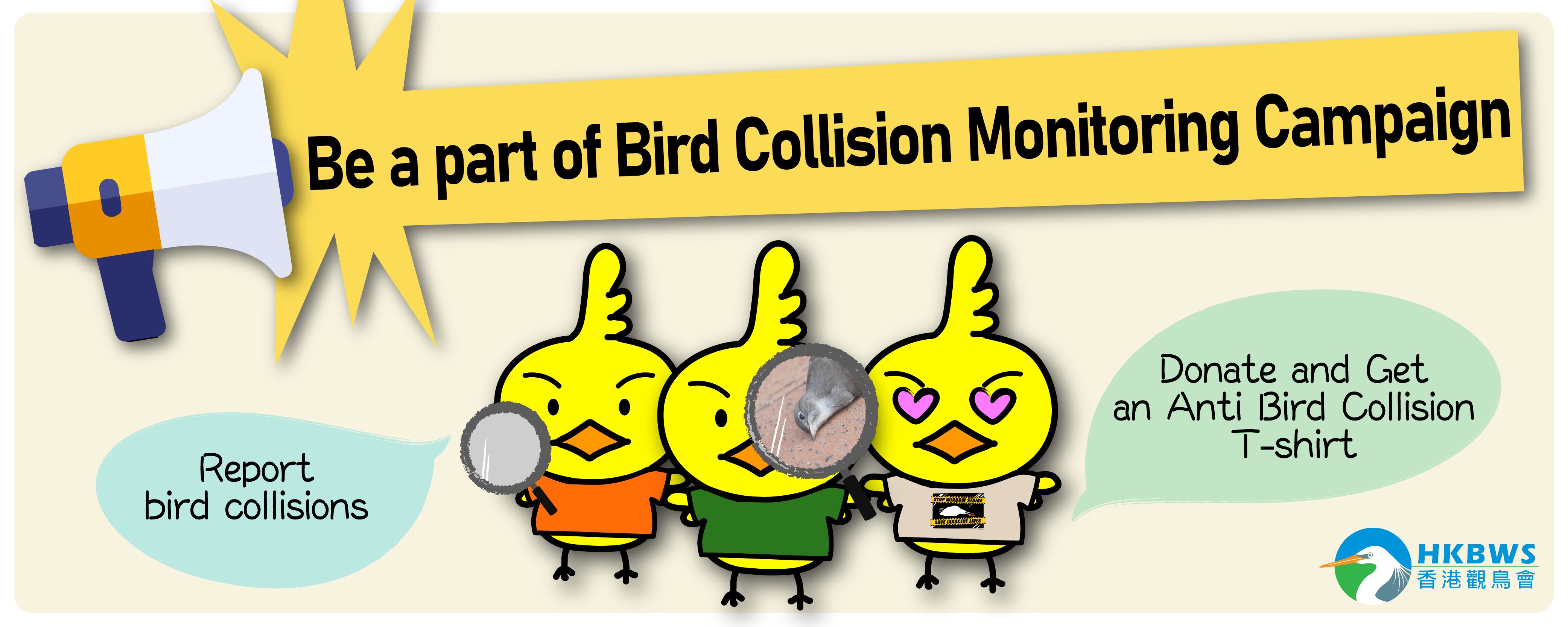 Donate and get an Anti Bird Collision T-shirt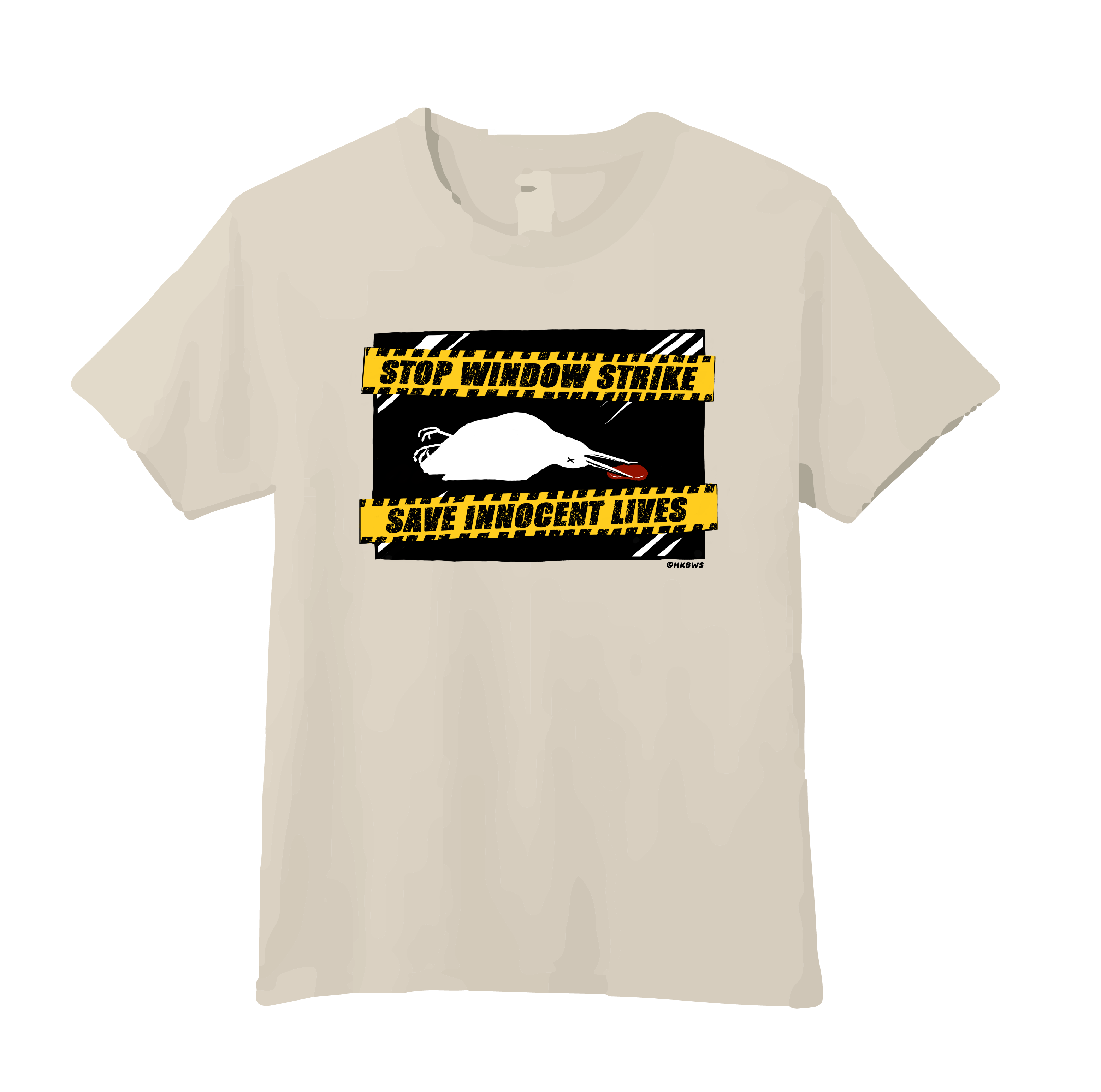 The design of this T-shirt is based on a real incident of bird collision in Hong Kong. In the autumn of 2022, a Eurasian Woodcock was on its migration journey from the north to the south, but unfortunately flew into an "invisible" glass while passing through Hong Kong and lost its life.
With this T-shirt, we hope to bring this bird conservation message on the streets to more people, and eventually achieve "stop window strike, save innocent bird lives".
Material: 100% cotton
Style: Sand in colour, Unisex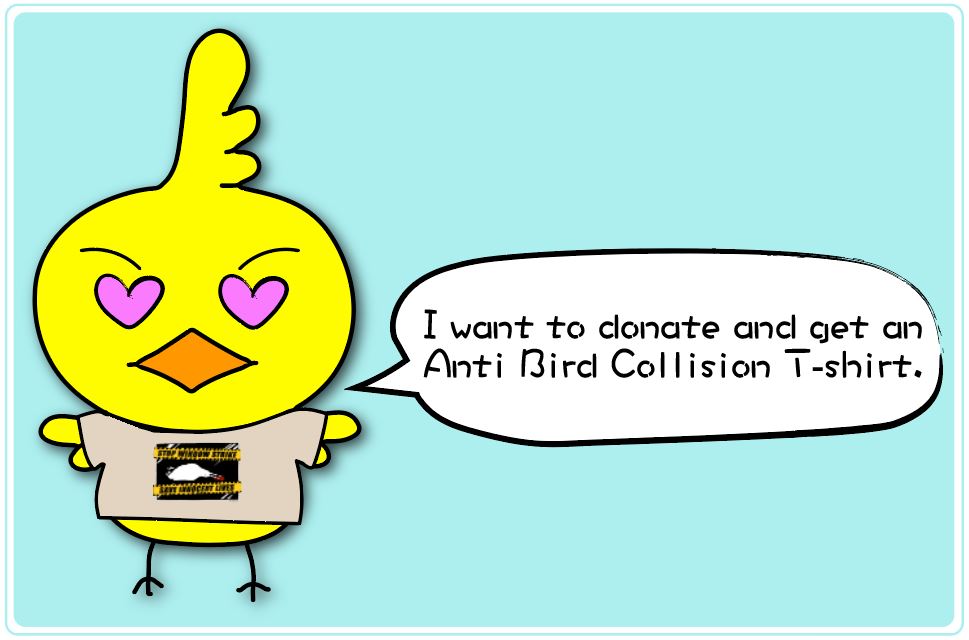 If you would like to redeem the "Anti Bird Collision" limited edition T-shirt, please select the suggested donation amount below.
│Click here to donate HK$400 (redeem 1 T-shirt)
│Click here to donate HK$700 (redeem 2 T-shirts)
│Click here to donate HK$1,000 (redeem 3 T-shirts)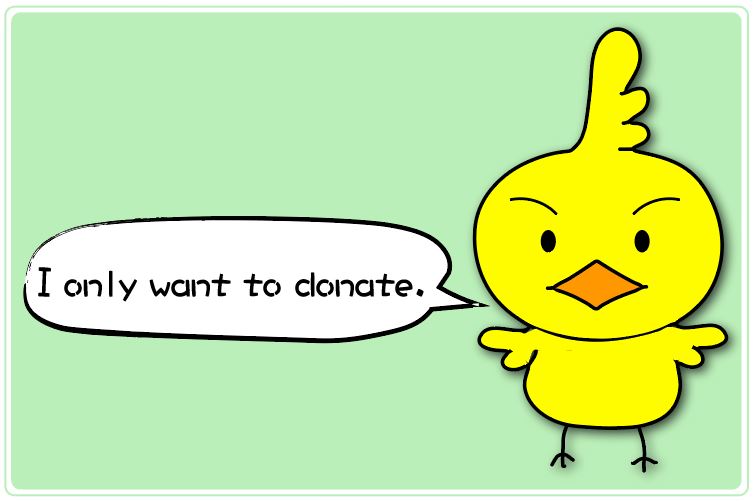 If you do not need the T-shirt, feel free to donate any amount│HERE.

Remarks:
1. The "Anti Bird Collision" limited edition T-shirt is tentatively scheduled to be shipped about 2 months after you make a donation. Please make sure the email address, contact number and mailing address filled in the donation form are correct to ensure we can contact you.
2. After the donation is made, we will send you an email within 7 working days to confirm the size of the T-shirt(s) and the delivery arrangement.
3. Local postage is free of charge, while overseas postage will be borne by the recipient.
4. Only donations by credit card are accepted for the redemption of the "Anti Bird Collision" limited edition T-shirt.
5. Donation receipt will be issued for donation of HK$100 or above.
6. For enquiries, please contact us by phone at 2377 4387 or by email to This email address is being protected from spambots. You need JavaScript enabled to view it.
Report bird collision cases

Pay attention to the environment and things around you. If you come across a wild bird that is suspected to be injured or killed by window strike, please upload the date of bird strike, the GPS location, photos of the bird(s) involved and the surrounding environment to the real-time online platform Global Bird Collision Mapper as soon as possible, or report to us via email This email address is being protected from spambots. You need JavaScript enabled to view it.. Click here to know more.